by Robert Jackson Bennett
Eligible Publication: City of Miracles (Divine Cities #3) (excerpt), Broadway Books / Jo Fletcher Books, May 2017
Reviews:
Revenge. It's something Sigrud je Harkvaldsson is very, very good at. Maybe the only thing. So when he learns that his oldest friend and ally, former Prime Minister Shara Komayd, has been assassinated, he knows exactly what to do — and that no mortal force can stop him from meting out the suffering Shara's killers deserve.
Yet as Sigrud pursues his quarry with his customary terrifying efficiency, he begins to fear that this battle is an unwinnable one. Because discovering the truth behind Shara's death will require him to take up arms in a secret, decades-long war, face down an angry young god, and unravel the last mysteries of Bulikov, the city of miracles itself. And — perhaps most daunting of all — finally face the truth about his own cursed existence.

City of Stairs (Divine Cities #1) (Chapter 1) (Chapter 2), Broadway Books / Jo Fletcher Books, September 2014
The city of Bulikov once wielded the powers of the gods to conquer the world, enslaving and brutalizing millions—until its divine protectors were killed. Now Bulikov has become just another colonial outpost of the world's new geopolitical power, but the surreal landscape of the city itself—first shaped, now shattered, by the thousands of miracles its guardians once worked upon it—stands as a constant, haunting reminder of its former supremacy.
Into this broken city steps Shara Thivani. Officially, the unassuming young woman is just another junior diplomat sent by Bulikov's oppressors. Unofficially, she is one of her country's most accomplished spies, dispatched to catch a murderer. But as Shara pursues the killer, she starts to suspect that the beings who ruled this terrible place may not be as dead as they seem—and that Bulikov's cruel reign may not yet be over.
City of Blades (Divine Cities #2) (excerpt), Broadway Books / Jo Fletcher Books, January 2016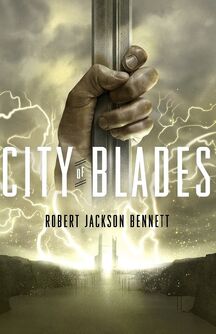 The city of Voortyashtan was once the domain of the goddess of death, war, and destruction, but now it's little more than a ruin. General Turyin Mulaghesh is called out of retirement and sent to this hellish place to try to find a Saypuri secret agent who's gone missing in the middle of a mission, but the city of war offers countless threats: not only have the ghosts of her own past battles followed her here, but she soon finds herself wondering what happened to all the souls that were trapped in the afterlife when the Divinities vanished. Do the dead sleep soundly in the land of death? Or do they have plans of their own?